We find a lot of junk in our day-to-day, but we always take a moment when we find something that's uniquely Canadian. It makes us appreciate Canada just a little bit more and think about it's unique history. Every piece of "junk" that we find is a window into our history. Looking back on old hockey cards or license plates sends us thinking back through the years, when license plates only needed a few numbers and collectible hockey cards were the most important pieces of any young Canadian's collection.
Some items were maybe not much more than a marketing gimmick, but they kept Canadiana front and centre and gave us pride in our country nonetheless. Below are five of the most "Canadian" things our junk removal teams across Canada have picked up over the years.
Old Canadian Money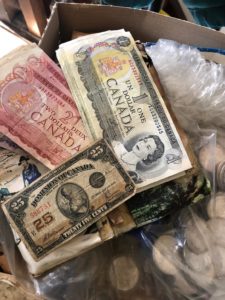 Found in Winnipeg by our then-new franchise owners, these bills from the mid-1970s remained with the customer as they wanted to keep them for historical preservation. On top of the pile is a 1923 "Dominion of Canada" 25-cent note, also remaining with the customer. Sometimes these piles end up misplaced over the years – we all have that nook in the house that tends to eat up our possessions – and the customer was glad to have them retrieved so they could tend to them properly.
Note the bags of coins underneath, as well, dating from the same time period. Some of us may even remember the 2-dollar bill and know someone who held on to one of those, and now that pennies are out of circulation that one-cent piece of copper is another reminder of the constantly changing nature of our currency! One thing's remained, though: we've always had such colourful money!
Big, Fake Money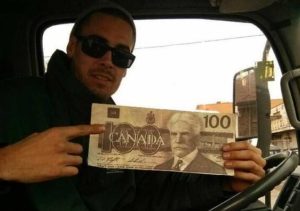 Don't you wish you had one of those in your wallet? This was found in Toronto and was such a fun little collectible to show off, despite not being able to spend it.
It just goes to show that looking like you have a giant, hundred dollar bill can still put a smile on anybody's face.
1914 Ontario License Plate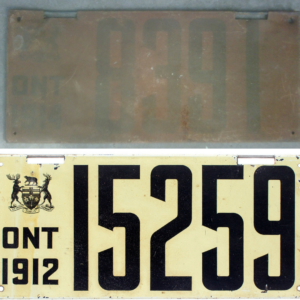 It's hard to see, but on top is the license plate that our Toronto team found not too long after they'd opened up. Just four numbers, and no letters, these license plates were identical with those from other provinces and were minimalistic and to the point. This one had lasted – though significantly faded – since 1914. Plates were first issued to vehicles in 1911 with only slight modifications to their design until the 1940s.
1979 Wayne Gretzky Hockey Card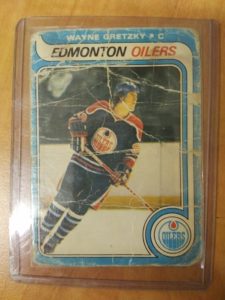 From his years with the Edmonton Oilers this card, from 1979, was picked up again on an early job. Though in it's protective cover the condition of the card restricts it's overall value, likely the reason why the owner hadn't sold it.
If in good condition, this card could fetch anywhere from $3,000 – $14,000.
A pretty penny or an incredible piece for your collection.
Tim Horton's Motorized Bicycle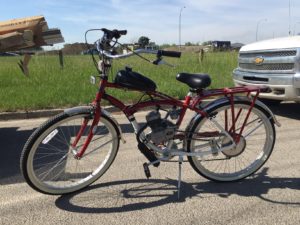 Raleigh produced these bicycles for several Roll Up promotions over the years. It appears that one industrious winner attached a custom small engine to theirs in order to propel the bike for them. That's some spectacularly Canadian "engine-uity" for you right there!
We've found a lot more over the years, from our friend "Bonesy" – an actual skeleton used for medical training – but it's great when we find something that makes us smile about Canada. What are some of the more interesting Canadian knick-knacks that you have?