April's almost over. And just like that, the curious month of self-isolation and late snowfall (who wanted that?) is moving on to the nicer days of May where we can REALLY get to work on those things around the yard. May means more days of being in the backyard enjoying the sun instead of being stuck in the home. We all love our homes, but if you're getting tired of looking at the same four walls or have finished everything on Netflix, some sunshine and fresh air are definitely in the cards for you.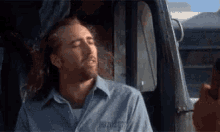 But, if you're a homeowner, you know that the cleaning isn't over. Many of the recent changes in waste pickups across Canada are a result of social distancing measures, and while things will return to normal at some point, it's important to consider how to manage those changes for your annual spring cleaning. Using our readily available Driveway Pickup services can help maintain that sense of normalcy if you're thinking about doing some spring cleaning, but there are other things you can do to keep the house and yardwork on track!
Start with our very own Home Decluttering Checklist. We do this a lot – we're not just great at junk removal, we're good at decluttering (and we're sure a few of our team members are great at Tetris, too). We've learned a few tricks and put them together in this quick little list that helps get you started on your home decluttering before you hit the great outdoors.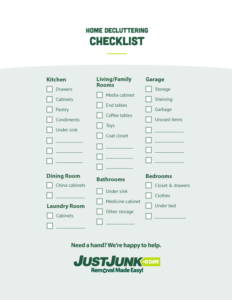 After you're done inside, you can repeat a lot of the same steps outdoors. Make sure any space under a deck is organized, for example. Or, you can use up any unused space under the deck for toys, hoses, or common items you use during the summer. Is the deck near a garden? Maybe under the deck is a useful spot for quick access to gardening tools to aid in weeding!
What about that shed? Is it really as organized as it could be? Putting up some boards to hang additional cords, tools, or even a bike or two may make the difference in space you need.
Spring cleaning isn't always about just getting rid of things, it's about reorganizing. Many mental health advocates promote many of the activities of spring cleaning – such as organizing, creating lists of tasks, decluttering – to promote better mental health overall. Coupled with the outdoor environment, which also shows huge benefits to mental health – spring cleaning while in isolation can be a win-win for many who may feel too cooped up right now.
Stay safe, stay healthy, and take care.