Hoarding Help in St. Catharines
With their living space taken hold of by household clutter, hoarding symptoms risks strain on the relationships between a hoarder and their loved ones. Fortunately, the St. Catharines hoarding help professionals from JUSTJUNK® are here to help declutter your home as part of our hoarding treatment in St. Catharines.
We remove everything!
We do all the work!
We recycle and donate!
Free estimates.
At JUSTJUNK®, we understand that discerning how to help a hoarder is no easy task. So we strive to provide you with an easy and effective hoarding solution in St. Catharines with our all-inclusive cleanup service. Simply indicate which items are to be removed, and our service professionals can grant you with a free no-obligation quote on the spot. To ensure that our rates remain sensitive to your budget, we use a volume-based pricing structure so that you only pay for the amount of space that your items occupy in our trucks, all labour and disposal is included in one price.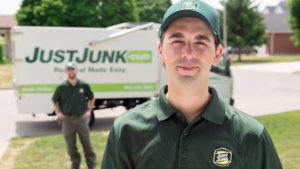 Recycling and Donation Services
The cleanup crew at JUSTJUNK® in St. Catharines understands that, oftentimes, there is sentimental importance to the items that a family has that has led to the hoarding. Our service professionals do their best to ensure that any reusable items collected are either donated or recycled, rather than taken directly to the dump. Through enlisting the help of local charities and recycling facilities up to 60% of the items we remove avoid going to the landfill through our sustainability efforts!
Book Today!
At the first sign of hoarding, don't hesitate. JUSTJUNK® in St. Catharines and our hoarding help professionals can arrive as early as today to provide you with a free estimate, and with our same or next day service removal can begin immediately if necessary.
For more details on our hoarding treatment in St. Catharines call us at 905-646-5965 or book online today!