E-Recycling in Edmonton
Has an ancient television set been collecting dust in your home for ages? Let JUSTJUNK Edmonton dispose of those outdated electronics in an environmentally-friendly manner!
We remove everything!
We do all the lifting, loading and disposal!
We recycle and donate!
Free estimates on-site!
With our Edmonton e-waste recycling services, the Edmonton e-waste removal team strives to dispose of e-waste easily and efficiently, while reducing their environmental impact!
What JUSTJUNK Does
Simply indicate where the unwanted members of your electronics collection have gathered, and the Edmonton e-waste removal team will provide a free on-site estimate – at no obligation. With our volume-based rates, you only pay for the amount of space that your unwanted electronics occupy in our truck!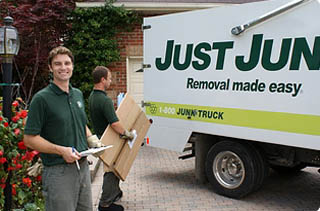 From there, breathe a sigh of relief as the Edmonton e-waste disposal professionals take care of everything – all at no extra charge! From the e-waste removal to e-recycling, JUSTJUNK Edmonton's e-waste services ensure that no detail is left unattended!
Environmental Services
Not all electronic waste should be subjected to a single fate in a landfill. As a result, the Edmonton e-waste removal team from JUSTJUNK strives to adopt alternative methods of disposal. Through actively pursuing environmental initiatives, our services professionals collaborate with local charities and recyclers to divert as much as 60% of e-waste away from the dump!
Booking Is Easy!
Scheduling a free estimate with the Edmonton e-waste removal team is easy! With our same or next day service you can say goodbye to that old television or computer as soon as today! Book online! To speak to one of our e-waste removal experts in Edmonton call JUSTJUNK at 780-409-0444. Give JUSTJUNK a call today!